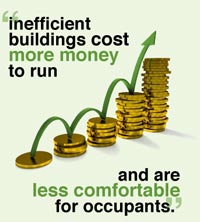 Did you know...
Most buildings were not designed with efficient use of energy in mind?
In fact, many buildings that were designed to be energy efficient are not operating as intended
. See the
Save The Bay
project for an example. Not only does this result in a larger "carbon footprint" but the fact is, inefficient buildings cost more money to run and are less comfortable for occupants.
Energy Engineering and Design can help transform your building into a High Performance Green Buildings that is both environmentally friendly and more comfortable. The best part is, because of the savings, our services can pay for themselves. Sound appealing?
Click here to learn more about EE&D's strategies to improve building performance.
EE&D's energy saving strategies include:
Energy Engineering & Design
is an independent consulting engineering firm, which provides comprehensive energy management services to clients in the commercial, industrial, institutional and government sectors. The founder and principal engineer is Mr. David F. Ward, P.E., LEED AP.
Energy Engineering and Design Inc. is unique in the marketplace because of the combination of services offered and their engineering expertise coupled with a construction background. The services provided by EE&D were not selected at random based on market research, but rather evolved as a set of required needs from experience with development and construction of energy conservation projects. They are all very interrelated and rarely stand alone.
EE&D, Inc is currently on the Commonwealth of Massachusetts' Preferred Vendors list to provide Performance Contracting Program Consultation.

EE&D and the First LEED certified building in Rhode Island
Energy Engineering and Design, Inc. was the LEED project team administrator for the
first LEED certified building in Rhode Island
. The project involved the renovation of an abandoned manufacturing facility into a LEED Silver office building. The building is used as a business incubator for Green businesses. To learn more about this, and other, interesting projects EE&D has been involved with,
Click here.